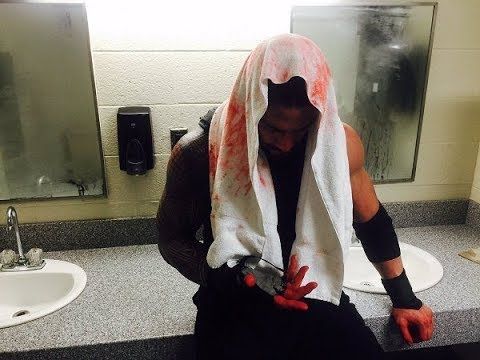 What's the story?
The ending of Monday Night Raw saw the heels of the show brutally ambush and attack the Shield. The beating was so ferocious that Seth Rollins' received a gruesome injury after being thrown through a police van window. But the WWE has now revealed that Rollins, Ambrose and Reigns all refused medical attention afterwards.
https://t.co/KInthARq23
In case you didn't know…
The rivalry between the Shield and the thrown together group of Braun Strowman, Dolph Ziggler and Drew McIntyre is reaching a fever pitch and on Monday Night Raw the heel faction got one over their popular adversaries by getting the Raw locker room to ambush them.
This followed the 'Hounds of Justice' being arrested for starting a brawl with their enemies at the start of the show. The trio was then subsequently charged with a litany of crimes before heroically return to Raw in an evidently stolen police van to prevent Ziggler, Strowman and McIntyre from attacking Finn Balor. Unfortunately, it didn't end well for them
The heart of the matter
As you can see all three men get brutally beaten, with Rollins coming off worse when he's thrown through a police van window, receiving a nasty gash to his arm. However, shortly afterwards the WWE released the following update on the Shield members, revealing they didn't want medical help
Despite evidently suffering multiple injuries at the hands of Braun Strowman, Raw Tag Team Champions Dolph Zigger & Drew McIntyre and a host of other Superstars on Raw, The Shield refused medical attention, WWE.com can confirm.
What's next?
Roman Reigns is set to battle Braun Strowman for the Universal Title at Hell in a Cell and the Shield are set to take on the trio of Ziggler, McIntyre and Strowman in a six-man tag-team match at Super Show-Down so it looks like the heated rivalry between them is going to continue!
Related