Where do you start with Roman Reigns? Well, to start off – I can guarantee you either love him or hate him. There is no real in between.
Suddenly, though, today, the dynamics have shifted and "everyone loves Roman Reigns" – and I'm here to tell you why that's completely fine.
There are a few comments floating around online saying people are "jumping on the bandwagon" to support a man they hated yesterday. Now, make no bones about it, I'm a big Roman Reigns fan, I own a t-shirt, I even have the Funko pop vinyl figure – but I have no problem at all with people who don't like Roman Reigns. Why? Well, it's simple really.
Love him or hate him, it's hard to argue that Roman Reigns has been pushed to the moon during his time in WWE. Some ridiculously strong and sometimes nonsensical "Superman"-esque booking has seen Reigns reach the top of the mountain ahead of some stars who may be more talented in your opinion, or even more deserving, but Reigns can't help that.
I think Reigns is an incredible talent – from the aesthetics all the way to his determination and work rate. In fact, I even went so far to say he's a real-life superhero, detailing precisely why.
So, why is it fine to suddenly like Roman Reigns now?
While many people boo and jeer Roman Reigns, there's never a bad word to be said about Joe Anoaʻi the man. While some wrestling fans may absolutely despise Reigns as a character, there's never a bad word said about the man under the seemingly bulletproof vest – and that's because Reigns' big problem has never been anything to do with Reigns, it's only been how he's booked.
The biggest problem? Well, because while Reigns portrays nothing short of a superhero on television, Joe Anoa'i is a real-life hero. He's been spending the last number of years on the road 300 days, working lengthy matches on an almost nightly basis, never taking time off and always giving it 100%.
Not only that, but the character of Roman Reigns is also an inspiration to so many, and he always makes time for his fans – notably through his work with Make-A-Wish, where Reigns' dedication is second only to that of John Cena.
Reigns is also a father to a young daughter and two twin baby boys, and it's noted just how much Anoa'i loves spending time with his family. There's a lot to look up to, admire and respect about the man behind the vest.
So, when a man who does all of this announces he faces the battle of his life against his toughest opponent yet in Leukemia, well, everything else goes out the window. The hatred you have for the character of Roman Reigns should NOT translate to Joe Anoa'i.
Roman Reigns may take some heat from the crowd, but Joseph Anoa'i is a man we're all rooting for now in his personal battle, and there are several reasons for that.
When Reigns steps into the squared circle against any opponent, half the WWE Universe wants him to win, half wants him to lose.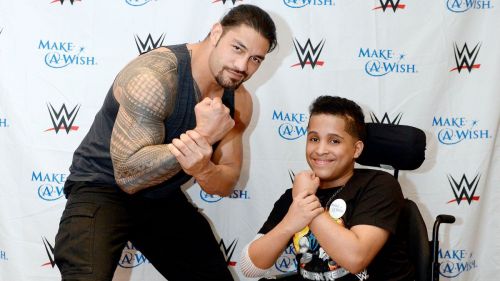 When Anoa'i – a hard working dude with a family who does a lot to help kids with cancer – is fighting cancer, of course, everyone wants him to win. Reigns will have given a lot of children some extra strength in their own personal battles, and Anoa'i deserves exactly that back from the people who he's put his body on the line to entertain over the years.
And if you can take any positive from Reigns' announcement, surely how much it unites everyone and raises awareness of a disease that affects far too many lives is exactly that.
We wish Roman Reigns all the best in his battle with Leukemia.